Posted by Joe in Reviews on 08:00, Oct 15, 2009 | No Comments
Prototype answers the question of what happens when you make a sandbox game that not only has little punishment for causing destruction, but encourages it. Where other games would quickly spell game over if you caused havoc on the general population, this game gives you experience and skill points for doing so. But the game is far more than just some murder simulator, there is a point to all the madness you cause.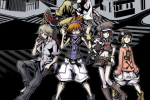 Posted by Joe in Reviews on 22:39, Oct 14, 2009 | 1 Comment
Square Enix is known for milking any series with the words Final and Fantasy, in the title. So imagine my surprise when they announced a new RPG for the Nintendo DS would be an original IP. The World Ends With You was developed by the same team who created the Kingdom Hearts series, but outside of some similar character designs it is quite a different departure. However there's a reason why Square Enix tends to stick with time tested IP's as original stuff sometimes misses the mark in a bad way. So is The World Ends With You another smash hit like Kingdom Hearts or do we have another The Bouncer on our hands?