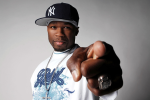 Posted by Jesse in Real News on 22:40, Aug 07, 2009 | No Comments
Joe, dude! I hope you're reading this. Your boy, Fiddy will have a cameo appearance in Modern Warfare 2!
Posted by Joe in Raves on 14:00, Mar 03, 2009 | No Comments
So with the last few weeks cluttered with releases like Street Fighter IV, Star Ocean: The Last Hope, Halo Wars, and Killzone 2, who knew that the one game I would end up buying would be this one.