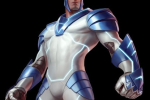 Posted by Michael in Rants on 09:20, Aug 27, 2009 | 1 Comment
Cryptic Studios, the developers of the upcoming superhero-based MMORPG, Champions Online, announced yesterday that all of the discounted Lifetime Subscriptions and 6-month Subscriptions were sold out and they would not be permitting any further purchases.
Posted by Unwound Crew in Reviews on 11:30, Aug 17, 2009 | No Comments
"Don't cross the streams." "There is no Dana, there is only Zuul" "Are you a god?" "We're ready to believe you!" If these quotes mean nothing to you, then you can probably skip over the rest of this review as there is a bit of basic Ghostbusters knowledge you'll need to fully understand this. In what can be described as pure fan service, Ghostbusters: The Video Game does everything it can to give you what is basically the third Ghostbusters movie. From the entire principal cast returning to do voice work, to Dan Akroyd and Harold Ramis lending their help to the script, multiple references to the first and second Ghostbuster movies and even using many of the original film's music, you really feel the immersion into the Ghostbusters' universe.