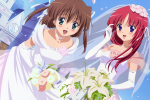 Posted by Jesse in Unfurled on 20:00, Jun 23, 2009 | No Comments
Did I get your attention with that headline? Good. Sankaku Complex today has blogged about the recent Draconian censorship regulations imposed by the Ethics Organization of Computer Software or EOCS, in response to the recent rape game epidemic and outrage.
Posted by Jesse in Real News on 01:30, Jun 03, 2009 | 9 Comments
After the back and forth information of whether ryōjoku-kei games (or rape games) should be banned or not, a big leader in the adult video game industry in Japan has made a decision.