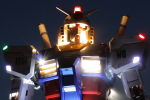 Posted by Jesse in Real News on 19:00, Jun 19, 2009 | No Comments
Things got derailed a bit and we are JUST NOW posting last week's news that we didn't report. Not only are we giving you OLD news, but old news with an edge! Okay maybe not, but we're trying to make up for it. Anyway, it's the second week and this is our HUEG Gundam edition of "What We Didn't Report." This week, we second-handedly report a Gundam, a fake protest, a seiyuu making music history, and Jimmy Fallon losing his shiz on national TV.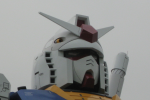 Posted by Jesse in Other Stuff on 10:20, Jun 09, 2009 | No Comments
The massive 1:1 scale Gundam RX78 mecha (the original Gundam of the Universal Century timeline) in Odaiba is finally complete!