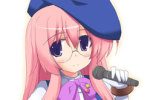 Posted by Jesse in Real News on 12:40, Jun 10, 2009 | No Comments
If you think combining Macross Frontier and K-On! is sweet, you should check out this twisted collaboration concocted by Banpresto.
Posted by Jesse in Other Stuff on 01:00, Jun 03, 2009 | No Comments
This is filed under the old adage, "two great tastes, tastes great together." Someone from Nicovideo created a video mash-up, using a K-On! modified version of the Miku Miku Dance program and Seikan Hikou from Macross Frontier. What we have here is an awesome music video. Enjoy!