As a general rule I try to finish a game to completion before I write up the review. Sometimes a game can start off a little slow, but eventually lead up to an epic experience. However, just like certain anime series, if the early parts of the game are such a test of your patience, it doesn't matter what's at the end because you're not going to care. As the trademark Mike Garcia quote goes, "Why would you drag your balls through a mountain of glass just to get to the bactine on the other side?" Eat Lead: The Return of Matt Hazard is one of these games.
The game is a third person cover based shooter with very simple goals, walk from one end of the level to the other, killing enemies that spawn along the way. The thing that is supposed to make up for this stale kind of gameplay is the humor, but really there is nothing terribly clever about it at all. Matt Hazard is voiced by Will Arnett, but Matt's dialogue doesn't take advantage of Arnett's talent. It makes it feel like anyone with a gruff voice could have done Matt's voice. In this universe Matt Hazard is the stereotypical hero of an action game franchise, much like Duke Nukem or Max Payne. The game even shows you the history and evolution of these fictional games from an 8-bit sidescroller, a first person shooter, a GTA style game and a kid friendly shooter with water guns instead of real ones. Matt Hazard games stopped being made in the late 90's and Eat Lead is supposed to be Hazard's comeback game. Sounds good enough right?
Here's where things take a massive turn into confusion. To sum it up, they want you to believe that Matt Hazard is both a video game character and a real life person. Matt talks in a way that makes you think he is a real person. He constantly breaks the 4th wall and is fully aware he is in a video game like when he makes fun of the level objectives at the start of the level. What more is the CEO of the game company wants revenge against Matt Hazard because he could never beat any of Matt's games as a kid. He plans to get his revenge by killing Matt Hazard in the video game. That would be like me wanting to kill Mario because I could never beat Super Mario Brothers. It doesn't make much sense in real life and it doesn't make much sense in this video game either. What confuses me even more is real world is rendered using the same in-game graphics as the video game world. This makes me feel like both worlds exist on the same plane. I think they could have been much more effective if they used cheesy FMV video for the CEO scenes, especially since he's played by Neil Patrick Harris in this game.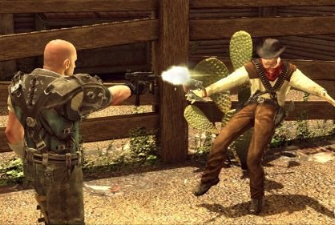 I could almost forgive this game for its non-sensible storyline, after all it's supposed to be a parody and not to be taken too seriously. But the gameplay is just way too shallow and repetitive to make up for it. Enemies can be taken down in two ways, one way is by melee attacks. You can go up to enemies and do a quick melee combo that will usually take them down. But since it is risky to expose yourself in this manner, most of the times you'll be trying to shoot them from behind cover. Headshots are very powerful in this game, so even though there are multiple weapons to pick up, often times you can get through a whole level with your default pistol. While this is nothing new to shooters, the game never varies on this basic run and gun formula. Sure it tries to make you feel like it does. One of the gimmicks in the game is the programmers are pulling enemies from Matt's old games to fight against him. So in the same level you may fight against cowboys, Russian soldiers, zombies, water gun soldiers, and even 2D Nazi's that turn sideways to avoid your fire. Ultimately, it all just feels like different skins on the same enemies as the same basic strategy of headshots seem to work against everyone.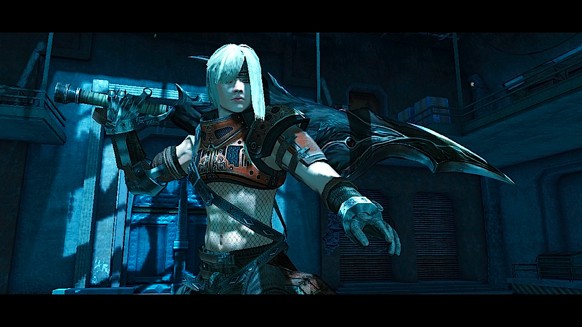 To me there is only one saving grace about this game. Matt Hazard is a game about parodies and the funniest by far is the inclusion of a boss that is a parody of JRPG protagonists. The boss is named Cloud Strife Altos Tratus and he is from the game Final Fantasy Penultimate Illusion. During the in-game cinema he even talks to Matt using text boxes complete with brooding over drawn monologues and ellipses. You may think the game is worth playing just to get to this point like I thought it was, but in the end this other method proved to be far less painful.
Ultimately the idea behind Eat Lead: The Return of Matt Hazard is a unique one but just lacks in its execution. The storyline feels very non sensible and wants to blur the lines between reality and video games. While there are many enemy types, they end up all feeling like the same ones just with different weapons. It gets dull in a hurry and almost makes you wish you could play Matt Hazard's Go Kart racing game instead. To sum it all up in a line I might say if I were in this game, playing this can be very hazardous to your enjoyment.
Eat Lead: The Return of Matt Hazard is available now for the Xbox 360 and PS3.