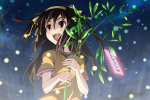 Posted by Jesse in Real News on 23:00, Jun 19, 2009 | 1 Comment
Hay guise, sorry about the lack of posts in the past week. I had absolutely zero time this past week to write about anything, including last week's "What We Didn't Report" segment. Anyway, while Joe was holding down the fort, I was scouring through the interwebs during my downtime at work and found quite a few goodies to share with you all. Without further ado, here's this week's stuff we didn't report.
Posted by Jesse in Other Stuff on 23:50, Jun 10, 2009 | No Comments
Japanese robotics is progressing at an alarmingly scary rate. Just yesterday they revealed the life-sized Gundam mecha, which is scary (and cool) enough. But now, they've gone too far!