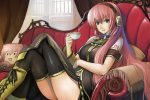 Posted by Jesse in Raves on 08:00, Aug 07, 2009 | 1 Comment
A couple of months ago, we showed you Miku's melancholy rock ballad. This time, it's Vocaloid newcomer Megurine Luka's turn to make you grab the tissue box and yet at the same time, tapping your feet as you listen to the rhythm of this awesome song.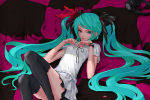 Posted by Jesse in Raves on 00:30, Jun 03, 2009 | No Comments
Here's an awesome fan-made music video from virtual songstress, Hatsune Miku. The song feels like an Aerosmith ballad, it has an emotional guitar solo, a heart-pounding marching beat of the drums and a voice that's very soulful that you almost forget that it's computer generated.